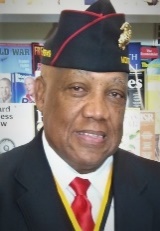 Biography
Robert B. Middleton, II
Robert Middleton currently serves as National Commandant of the Montford Point Marines of America, Inc. (a 501 c 3 Public charity) whose members comprise the nation's first Black U.S. Marines during WWII, recent recipients of the Congressional Gold Medal awarded by President Barack Obama and the 112the U.S. Congress. Served as a correspondent with the U.S. Pentagon to conduct video interviews with Detroit Area WWII Black Marines which are now archived in the Library of Congress. Collaborated with the Pentagon to coordinate travel and lodging arrangements for WWII Montford Point Marine heroes nationwide to make the pilgrimage to Washington, D.C. to receive the Congressional Gold Medal in 2012. Be sure to tune in Monday, August 31st, 2020 for an all new "I Believe" with host Michelle Graves and special Guest Robert Middleton!

In February of 2020, Mr. Middleton joined the ranks of the Marquis Who's Who in America whose inclusion is limited to individuals who have demonstrated outstanding professional achievement in their respective fields and made innumerable contributions to society as a whole. He is a current board member of the National Veteran Business Development Council and the Brodhead Association that proposes a multi-million dollar renovation and development project of the historic Brodhead Armory in Detroit. Immediate Past President of the Motor City Veterans Village that has proposed a $6+ Million dollar construction of a Fisher House near the Detroit VA Medical Center. He is executive director of the Emergency & Disaster Survival Intelligence Academy and Commanding Officer of the Tactical Survival Crisis Management Unit where he trains community disaster responders and On/Off-grid survival. Current Chairman of the Detroit Historic Civil War Society hosting the Annual Veterans Day Ceremony at the Historic Elmwood Cemetery in Detroit, MI. Works with the Office of Homeland Security and Emergency Management and Community Citizens Corps to volunteers in emergency and disaster response. He is chairman of the Volunteer Amateur Ham Radio Division, serves with the Wayne County Amateur Radio Public Service Commission and the National Weather Service/NOAA
Served on active duty in the United States Marine Corps from 1967-1970 in Southeast Asia, Republic of Vietnam near the Demilitarized Zone and later as an E-5 non-commissioned officer with two (2) years in the reserves. Assigned to the 2nd Battalion, 9th Marines, 3rd Marine Division, working with the Forward Air Command (FAC) and Forward Logistical Command with specialty in tactical telecommunications. As (FAC) Radio Operator facilitated ranking commanding officers with coordination of fixed-wing aerial combat missions in North Vietnam. Participated in numerous military operations including Dawson River, Operation Lancaster I & II, Operation Trousdale and numerous others; one of which is the notorious Operation Dewey Canyon where the Marines captured the largest cache of North Vietnamese munitions during the Vietnam War. Survivor of two (2) Tet offensives in North Vietnam where his platoon was overrun by the North Vietnamese Army in the Ashau Valley near the Laotian and Cambodian Border in 1969. . After Vietnam, assigned to 1st Battalion, 6th Marines, 2nd Marine Division at Camp Lejuene, N.C., and deployed with the Mediterranean 6th Fleet on amphibious maneuvers throughout the Middle East until 1970.
Decorations Include the Republic of Vietnam Campaign Medal, Vietnam Service Medal, Combat Action Ribbon, Vietnam Presidential Unit Citation, Republic of Vietnam Civil Action Ribbon, Republic of Vietnam Gallantry Cross, Presidential Unit Citation, Navy & Marine Corps Medal, National Defense Medal, and the Meritorious French Fouragere.
Business Background
Former President CEO of the Middleton Financial Group and Mindtrust Capital Partners specializing in commercial and industrial lending, and management consulting services to private businesses and corporations. Involvement includes serving as chief negotiator on lucrative corporate business deals, and facilitated real estate and land development projects, financing, corporate turnaround, buyouts, and tax lien liquidations. Has over 30 years of business experience in business and administration with background in the financial services industry, including property & casualty insurance, real estate, and mortgage lending. Former owner/manager of Frye Construction, Inc.; licensed builders and member of the Washtenaw County Homebuilders Assn.
Subject matter expert on corporate governance and best practices for nonprofit organizations and faith-based entities assisting boards of directors with structuring and organizational development. Assists with 501 (c) 3 IRS charitable tax-exempt status, bylaws, compliance with local, state, and federal agencies, strategic planning, grant writing, business planning and financial analysis, audit planning and readiness, and selection of independent auditing firms. Attended the University of Michigan and served as Research Associate at the Graduate School of Business Administration, Department of Research collaborating with post-doctorate business students in the conduct of sponsored research projects on domestic corporations and Fortune 500 companies as well as studies on international banking and lending institutions. Majored in Political Science, Public Policy & Administration with minor in business law and economics (GPA-3.4)
Civic & Community Activities
Office of Homeland Security FEMA/Emergency Management

Community Emergency Response Team (CERT)

Detroit City Council's Military Veterans Task Force.

Wayne County Amateur Radio Public Service Commission

Garden City Amateur Radio Club

NOAA National Weather Service Storm Spotter Team
Credentials
Licensed FCC Amateur Ham Radio Operator (KE8JRV)

Ordained Elder & Crisis Response Chaplain

Certified Disaster Medical Responder

Certified Advanced Disaster Life Support

Certified Advanced Search & Rescue

Certified Incident Command & National Incident Management Systems
Ordained Elder of the Gospel of Jesus Christ conferred by the International Council of Bishops, June, 2002. As a member of the ministerial leadership alliance perform sacerdotal functions for the congregation including administering the Holy Communion, baptism, worship service, funeral services, pastoral care, healing and deliverance ministry, evangelism, teaching, and preaching and the gospel of Jesus Christ. Formerly, served as Senior Church Administrator; developing and implementing church programs and ministries, as well as grant writing. Drafted administrative policies and financial reporting procedures, as well as oversee pre-audit preparation protocol. program development, grant writing, as. Collaborated with the International Council of Bishops in preparation of bishopric investiture ceremonies.